WCREALTORS is fortunate to have a highly talented group of professionals to assist the association in accomplishing its mission.
The primary staff members are:
Miranda Ricks
Administrative Specialist
Miranda is a native Texan and proud of it! She was born in Austin and raised in North Austin/ Round Rock. She is a proud mother of 3 adult children who were all born at Round Rock hospital. Miranda comes from a strong military background. Both of her parents served in the Air Force (jet engine mechanics) as well as her youngest daughter (Security Forces)!
Miranda's work experience is centered around owning her own company for upwards of 30 years!  She has since retired and became the newest member of the Williamson County Association of REALTORS® team in early summer 2021.  Being kind, friendly, and helpful are her top priorities. Miranda's favorite things to do in her spare time are cooking, fishing, and playing with her pit bull/ yellow lab puppy named Kane.
Candace Stone
Administrative Specialist
Candace grew up in Round Rock, TX and joined the Williamson County Association of REALTORS in June of 2020. Candace has extensive background in retail and customer service, with a bit of medical stuff thrown into the mix! She loves to make others laugh and smile as much as possible, even if it means sharing a dad joke or two. She has a beautiful and sweet fur baby, Libby, that she loves and dotes on. She loves spending time with her family and her fiancé, Ryan.
Michaela Potts
Events & Communications Manager
Michaela joined the Williamson County Association of REALTORS® in summer 2021 and oversees Communications and Association Events. Michaela has an extensive background in Mass Communications that dates back to her freshman year of high school. Throughout her schooling she was a member of her schools' broadcast program and was promoted to executive producer her senior year. Michaela obtained her Bachelor's in Mass Communication from Texas State University in December 2020. Her professional experience includes owning a music event production company, public relations, graphic design, photography and writing.
When Michaela is not working she enjoys camping and hiking with her husband and their two fur babies, Jesse and Cooper. She also has knack for interior design and has coined herself as a "DIY Extraordinaire."
Debby Moran
Director of Education
Debby oversees the Professional Development for the Association, working with the Education Committee to bring classes to the Association. She has been with WCREALTORS since July 2014. Before coming to WCREALTORS, she taught Pre-K for 18 years.
Debby is the mother to three boys, GiGi to two beautiful granddaughters, and a wife to Steve. In her spare time, Debby enjoys working out, reading, wine tasting, and exploring Williamson County.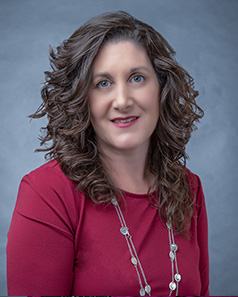 Heather Bonamo
Director of Membership & MLS
Heather oversees the new member registrations for the Association and CTXMLS at WCREALTORS, as well as implements new member orientation, and works with the Membership Committee.
Prior to moving to Texas with her husband and four wonderful children, Heather was a real estate agent on Long Island, NY. She spent 8 years as a freelancer specializing in online businesses before she joined us here at the Association in 2014.
In her spare time, Heather enjoys reading, playing with her 2 rambunctious dogs and sampling red wine.
Reginia Tuttle
Chief Executive Officer
Reginia brings 25+ years of experience including Association Management, Budget/Financial Planning, Operations Management, and Strategic Planning.
Reginia is a native Texan that has lived in the Dallas Fort Worth area for most of her adult life. She also owned her own Real Estate Brokerage years ago.  Since that time, she has spent her career working as a CEO for real estate associations in Tennessee as well as Illinois. Reginia enjoys spending time with her husband of 20 years and her daughter who lives in Dallas. Reginia enjoys traveling, exploring her new city, riding motorcycles in the hill country and anything that breaths adventure!